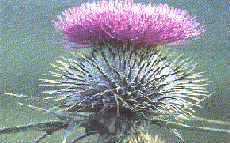 MARCH 27 , 2012



MY SCOTTISH ANCESTORS. Shake the Family Limb #8. for, Robert(Bob) Thomson, dedicated to his Family. Bob's page, contains pictures and histories of his family, decendants of Alexander and Lillian Thomson.



ROBERT THOMSON




Bob Michael and Teri January 1980


Robert (Bob)Thomson, born 15 January 1928 in Olyphant, Pennsylvania, deceased April 3, 1987 at San Fernando, Calif. Robert is the 4th son of Alexander & Lillian Thomson. Bob married Teresa (Teri) Margaret (Turley) THOMSON, born June 12, 1929. The Daughter of George Joseph Turley and Julia (Cassidy) Turley. Teri & Bob married on 12 June 1948 in Brooklyn, NY. They have 6 Children. Robert, Kate, Jeanie, Tina and Mary and Michael Thomson, born Apr 1, 1963, Calif., deceased July 12, 1984.



ROBERT THOMSON U.S. MARINE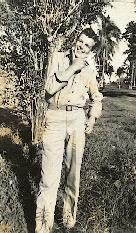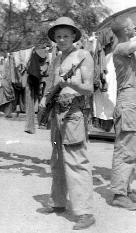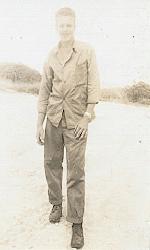 Bob Spent WWII Service in the US Merchant Marines 1944-45. Bob later Enlisted in the U.S Marine Corp (Top left photo Bob taining in Basic at Paris Island, Carolina) He was stationed on Guam (Top right and bottom left, Bob on Guam January 1947)and Siapan (bottom right, Bob on Saipan) in ,1946-47, in the Pacific. He was Dsicharged after WWII, and again recalled to active duty 1950-51 during the Korean War.



ROBERT/TERI THOMSON FAMILY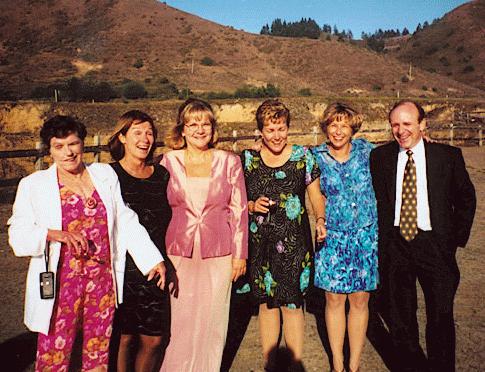 Teri, Kate, Jeannie, Tina, Mary and Bob 29 September 2001
ROBERT GEORGE THOMSON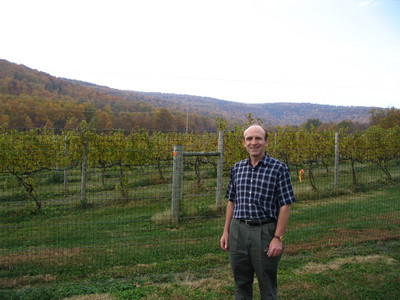 Robert George Thomson, born August 10, 1949, Weehawken NJ, The 1st son of Bob & Terri, married Cindy Von Pressentin, born May 5th 1955. they married on 9 September 1999 in Medford, Oregon. Bob is in Washington D.C., on a temporay detail with the Department of Justice, Office of Professional Responsibility until January 2007. He still owns his home in Medford, Oregon. Previous marriage to Linda Reilly May 21, 1970 and Teresa Huestis, june 22, 1980.



KATHLEEN ANN TRINDLE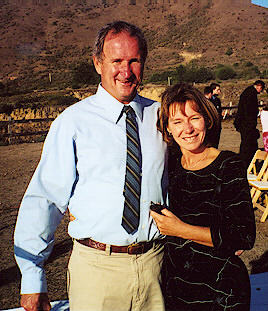 Kathleen "Kate" (Thomson) Trindle, born May 30, 1951 Hoboken, NJ, the 1st Daughter of Robert & Teri Thomson, married Bruce Trindle on December 18, 1971, Bruce was Born November 28 1950 in Loveland, Colorado. They have 2 Children, Cody Alexander born Feb 18 1978, Wade Arron, born March 2 1980. The family home is in Norfolk, Nebraska.
Cody Alexander Trindle graduated from the University of Nebraska on August 18, 2001.

Cody Is a Captain in the U.S. Army, he was awarded a Bronze Star for Valor in combat, in Afghanistan. Captain Cody has his second combat assignment this time in Baghdad, Iraq since August 2005.


Wade Aaron Trindle graduated with a BS in wildlife biology from Oregon State University in June 2005. Wade lives in Oregon.


JEANNE FRANCES (THOMSON) ANDERSON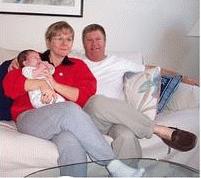 Jeanne Frances (Thomson) Anderson, born July 21, 1952 at Hoboken, NJ, The 2nd Daughter of Robert & Theresa Thomson. Married Grant Anderson on July 13, 1973, they have 2 daughters. Grant is now retired from the house building industry, They moved to Arlington, Washington.
GRETCHEN (ANDERSON) DUNBAR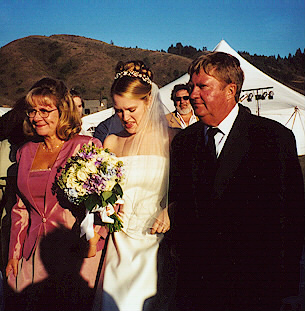 Gretchen Jean Anderson, born September 23, 1977, Gretchen married Jeffrey Michael Dunbar on September 29,2001. They live in Sacramento, CA.



HEATHER (ANDERSON) REDMON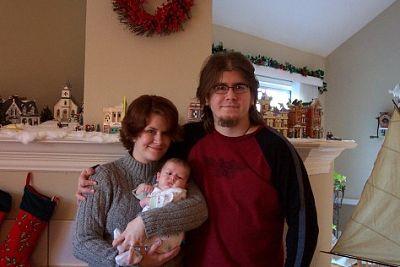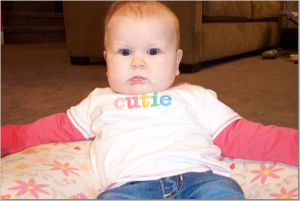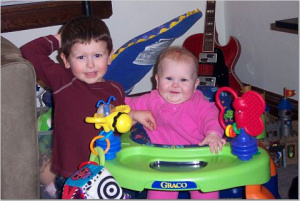 Heather (Anderson) Redmon, born, April 14, 1974, married Phil Redmon on April 7, 1999. Phil and Heather, have 2 children, Son Spencer Elliott Redmon, born October 18, 2002, , 8 lbs, 7 oz, 21 1/2 in.

Daughter, Allison Paige Redmon, was born on July 12, 2005. Spencer and Allison are the Grand children of Jeanne and Grant Anderson, Great Grand children of Teri Thomson. The Redmon family live in Saint Paul, Minnesota.



TERESA MARIE (THOMSON) DEWITT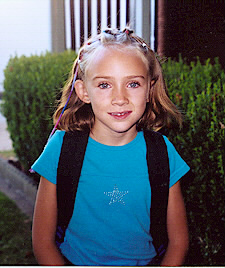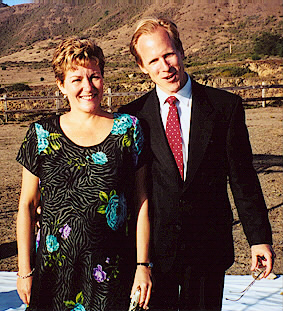 Teresa Marie "Tina" (Thomson) DeWitt, Born October 18, 1955, Brooklyn NY, the 3rd daughter of Robert and Teresa Thomson. Married James Van Eyk, September 22, 1972. Re-married Lewis DeWitt, born Feb 21 1960, they married July 26, 1991. Their daughter Natalie, born April 19, 1993 above Christmas 2001. Tina a Lewis are Nurses, living in West Sacramento, Calif.
MARY ELLEN (THOMSON) CURTIS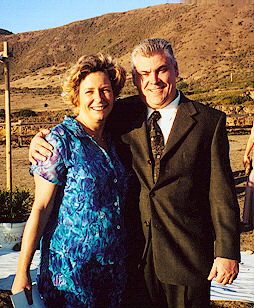 Mary Ellen (Thomson) Curtis, born Dec 4, 1960, New Brunswick, NJ. The 4th daughter of Robert and Theresa Thomson. married Robert Aguilar, August 10, 1985. Re-married to Alan Curtis, born Apr 19, 1955, C.P.A. They married December 28, 1994, in Las Vegas, Nv. Mary is a School Principal. They have 2 children, Erin born February 5 1978, married Danny Balandron October 2, 1999, have a son Noah Alexander, born on November 25, 2000 (Terri Thomson's Great GrandChild) and Shawn born May 9, 1981, who are Mary's Step children.. They live in Calif.




THOMSON FAMILY TREE



Each family has their own LIMB(page). You can jump direct to any tree limb(page),by clicking BELOW:

..Page 2.. DIRECT DECENDANTS Grandfather thru GGG Grandfater Thomson'sJump HERE
..Limb 3 ISABEL SLOANJump HERE
..Limb 4 JESSIE RAEJump HERE
..Limb 5 SANDY THOMSONJump HERE
..Limb 6 BILL THOMSONJump HERE
..Limb 7 ARTHUR THOMSONJump HERE
..Limb 8 BOB THOMSONJump HERE
..Limb 9 JACK THOMSONJump HERE
..Limb 10 WALTER THOMSONJump HERE
..Limb 11 LORRAINE DUNDASJump HERE
..Page 12 WELCOME TO CANADAClick HERE



list of MY SCOTTISH ANCESTORS links




THE THOMSON/WICHTERMAN FAMILY

SCOTTISH HISTORY

VIMY RIDGE MEMORIAL

JACKS PLACE
LATINA
MY SCOTTISH ANCESTORS- Thomson Family Tree
WEDDINGS
BABY
BACK TO TOP