MARCH 27, 2012



CANADA-Thomson My Scottish Ancestors, Page 12. To provide Family information, on the Decendents of William Thomson, His off-springs, the Brothers and Sisters of Alexander Thomson, and their off-springs to provide information on the Thomson family Canadian Cousins, genealogy and pictures of the Thomson ancestors families migration, from Scotland. For those in the family, who have NOT yet visited the location, these pictures will aid in finding your way up thru route 55, Vermont, USA.



CLICK THE HIGHLIGHTED AREAS TO GET THE PHOTO, CLICK ONTO BACK AND RETURN TO THE PAGE





WELCOME TO CANADA




This is Canadian Customs on the Border of Vermont, USA and BeeBe, Quebec Canada.



THOMSON FAMILY CANADIAN COUSINS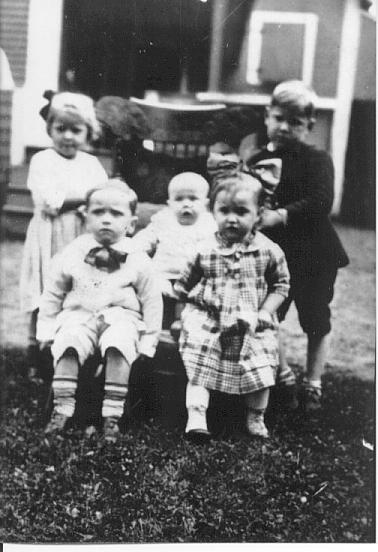 In the middle: George Kennett-age 1- top left Isabel Thomson and top right James (Bunty) Wilson, front left James Kennett right Mary Helene (Betty) Wilson, Quebec Canada About 1921.



ISABELLA JANE THOMSON



Isabella Jane (Youngson) Thomson, daughter of William Thomson and Jessie Daniel. She married William Youngson. She died. Jan. 9, 1962 in Grey Nuns Hospital, Regina, Sask. Buried Jan. 11th in Riverside Memorial Park, Regina. Their children:


William John b. June 28, 1899 Scotland, d. Mar. 16, 1976, Sask. M. in April 1922 to Eula Webster: their children:
Willliam Leslie b. Jan. 1922 (??) d. aged 2 mos.
Jack Webster b. July 31, 1929. Marr. Joyce Calihoo 1950. Children: Donna b. 1952,Linda b. 1954 (had child b. Dec.1977, Bruce b. 1957 m. Gleny Badley 1980 Jack Webster divorced Joyce & marr. Wanda Steele in 1972 & had Scott b. 1972 & Nola b. 1973

(2) Leslie George Daniel Youngson, b. 1901, Ireland, d. May 26, 1979, m. Muriel ARMSTRONG. Their Child: Dorothy b. 8, 1940, married William KOMAR 1969, their children Leslie b 1970, Kelly B. 1972, and Robert b. 1980.

(3) Herbert YOUNGSON b. 1904, Arcola, Saskatchewan, Canada, d. October 1959. He married Alice Daniel, (his Cousin) date and place unknown. Herbert and Alice had no children. Alice Daniel's Father was John Daniel (I think related to GrandMother Jessie DANIEL who married Grandfather William Thomson). Alice Daniel's mother was Christina Multch.

(4) Another son, Alexander d. in infancy.



HARRIET ELIZABETH THOMSON

Harriet right in photo



Harriet Elizabeth (Thomson) Kennett, daughter of William Thomson and Jessie Daniel, born, 1891, Aberdeen, died. Oct 21,1938, Sherbrooke, Quebec, married George Alexander Kennett (date?). she had a son, James b. June 21, 1915. He married Anne James who died May 7, 1977.

Harriet and George had twins, a little girl who died and George Alexander Jr. born Feburary 3, 1920.



JAMES KENNETT AND ANNE



James Kennett born June 21,1915, Canada. Married Anne James who died May 7, 1977. They did not have any children. James Kennett died at the age of 87 on May 10, 2003, at Leisureworld Caregiving Center, Gravenhurst, Ontario. James and Anne's cremated remains will be enterned in the THOMSON family plot at the Woodside Cemetery in Beebe, Quebec.

The following information was supplied by Elane Wilson, and Jim's brother George.

"Jim was a member of the Sherbrooke Regiment (M.G.) N.P.A.M. In the summer of 1939 he enlisted for overseas service in the First Cananadian Contingent, arriving in Egland about September 11/1939. He was headquarted in London during the "Blitz", and in his words, "I don't think I missed one air raid" his Duties included search, rescue & directions outside shelter. During incendiary bombings, they stayed on rooftops, throwing incendiaries off the rooftops onto the street below. Once he was Caught out in the street at the start of a raid, he ducked into a recessed doorway fortunately the recess was a brick arch & when the building collapsed, he was virtually entombed. Forty-eight hours later a search & rescue crew dug him out. On returning to Headquarters, he found them deciding whether to list him as missing or AWOL. When asked what it felt to be entombed, his reply "Okay until I ran out of smokes".He took part in the Dieppe Raid and the Evacuation of Dunkirk.

In a letter From King George, Buckingam Palace, on 17th December, 1939, to A/Segt. James Thomson Kennett, No 1 General Base Depot, Canadian Active Service Force, the letter addressed to The General Officer Commanding, 1st Canadian Division, read as follows:

"on behalf of the people of this country, I extend the warmest welcome to the first contingent of the Canadian Forces to reach these shores. The British Army will be proud to have as comrades-in-arms the successors of those who came from Canada in the Great War and fought with a heroism that has never been forgotten.

Apprently ther were very few of these letters, it is not known of anyone else still having one." James Kennett, truly was a Canadian WWII hero, saving lives.



GEORGE ALEXANDER jR. AND ELIZABETH KENNETT


George Alexander Kennett Jr, b. Feb. 3, 1920, in St. Gerard, Quebec, married Elizabeth Barbara Ottoway on Sept. 10,1954. Elizabeth (Beth) was b. Sept. 21, 1927 in Toronto. George and Beth are living in Gravenhurst, Ontario. (Beth's parents were George Beeching Ottoway & Grace Elizabeth Bentley.) George & Beth's children are:

(1) Christopher George Kennett b. Oct. 13, 1958 in Toronto. He married June 5, 1982 to Pamela Louise Jamison & they have 2 daus. Nicole Louise b. Sept. 18, 1983, Brampton, Ont. and Kaitlan Elizabeth b.Dec. 6, 1990 in Brampton, Ont.

(2) John Alexander b. Feb. 27, 1962 in Toronto. He marr. June 3, 1988 to Lynn Patricia McIsaac & they have 2 sons: Timothy John McIsaac b. June 5, 1991 in Toronto and Ryan Alexander b. Apr. 7, 1993 in Toronto.

George was previously married to Mary Scriven - they were divorced.



GEORGINA THOMSON

Georgina left in photo



Georgina (Ina) (Thomson)WILSON, b. Oct 12, 1895, d. oct 12, 1980, Sherbrooke, Quebec. She married June 22, 1917 at Beebe, Quebec to James Smith WILSON (b. Sept. 20, 1891 in Aberdeen, Scotland (d. Apr 4, 1939, Beebe, Quebec. Their children:
(1) James (Bunty) b. Oct. 8, 1917 Beebe, Que. d. Apr. 28, 1981 in Sherbrooke.

(2) Mary Helene (Betty) b. Dec. 20, 198 Beebe, Que. d. Feb. 3, 1975 in Victoria, B.C.

(3) Alexander Riddel (Sandy) (In photo, in overalls, Age 7) b. Aug. 27, 1920, Beebe, Que. d. May 10, 1928

(4) John Andrew b. Jan. 28, 1925 Beebe, Que. d.August 19, 2005.

(5) George b. July 16, 1931, Beebe, Que. - d. same day.

(6) Patricia Ann b. Apr. 13, 1934 Beebe, Que.

(1) James m. (1) Ruth Viola Rediker Aug. 15, 1942. Their children: Judy Ina b. May 15, 1943

Diana Rose b. My 7, 1949 and James Ralph b. June 1, 1957.

Judy m. Jan. 26, 1963 James White. They had one dau. Lynn Ann b. Jan. 30, 1964 Newport, Vt. who marr. Apr. 18, 1986 Pine Bluff, Ar. to James Bradley Reynolds and they had 2 children: Victoria Lynn b. July 11, 1988 Pine Bluff, Ark. & James Wilson b. June 25, 1993, Pine Bluff. Lynn and Bradley were divorced in 1995.

Diana Rose marr. July 14, 1973 to Michael Whitehouse. Their children are Jeffre Michael b. Mar 12, 1978. Brian James b. Apr. 21, 1980 and Laura Ruth b. Jan. 31, 1982

James Ralph Wilson (Jimmy) d. Nov. 26, 1961 - bone cancer.

(2) Mary Helene (Betty) m. Donald James Dobbie, Beebe Que, July 26, 1946 Their children:

(a) Margaret b. Feb. 18, 1947. Marr. July 15, 1967 to Johannes Floris de Raadt. Their children are: Teresa Yvonne b. July 27, 1971, Jacqueline Elizabeth b. Aug. 24, 1974 and Cynthia Marie b. Sept. 15, 1977


(b) Donald Alexander b. May 25, 1949. Marr. Gabriele Irene Linder Aug. 25, 1973 and their child is Kenneth Alexander b. June 10, 1982


(c)James b. June 2, 1950 Marr. Sept. 14, 1974 to Isabella Stevenson Hannah Marshall - no issue that I know of.


(d) Susan b. Sept. 11, 1951 Marr. July 18, 1970 Patrick Vaughn Skerry and divorced in 1976 she marr (2) Nov. 18, 1978 Ronald Bruce McCullough and they had one child Dawn Marie b. July 15, 1979


(e) Robert George b. Oct. 25, 1953


(f) Patricia Ann b. Feb. 7, 1960 marr. Ronald Philip Jansen Aug. 15, 1987.
Their family all live in or around Victoria, B.C.
(4) John & Elane (see Below)
(6) Patricia Ann marr. July 31, 1953 to Robert Arthur Stevenson. No issue. He d. Apr. 19, 1997 in Oshawa, Ont. and is buried there. Pat still lives there.



JOHN ANDREW WILSON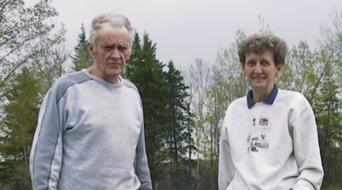 John Andrew WILSON b. Jan 28, 1925, died August 19, 2005. Johnny was the 4th child of James Smith Wilson & Georgina Thomson. John Andrew married Elane Percival HUNTER, b. June 20, 1931, Knowlton, Que.) Elane died on December 26, 2011.They married on Sept 3, 1955 John and Elane Have 2 children:

(1) Laurel Ann Wilson b. July 6, 1956, Laurel m. July 24, 1982 to John Henry Kilmurray (b. Nov. 13, 1959) and they have one child Alyssa Ann b. Oct. 30, 1985. They live in Grafton, Ma. U.S.A.

(2) Bruce Jeffrey Wilson b. Dec. 12, 1957, Bruce m. Mar. 12, 1982 to Daleen Marie Bridges (b. May 6, 1962, Bellingham, Wa.) and they have 2 sons: Dustin Jeffrey Andrew b. June 14, 1982, Tacoma, Wa. and Gabriel Arlen Arthur b. Anchorage, Alaska, July 20, 1985. Bruce is retired from the U.S. Army is now working and living in Spanaway, Washington.

John was previously married to Stella Rowena Lorimer and they had 3 children:

(1) John Arthur Wilson b. Aug. 25, 1945, Sherbrooke, Que. John Arthur marr. Janis Rose Smith (b. Aug. 24, 1957) on Sept. 2,1967. they had one child, Jennifer Ruth b.Sept. 15, 1976 in Frankfurt, Germany. Jennifer is not married. John Arthur is retired from the U.S. Army, they all now live in Newport, Vt.

(2) Joy Elaine WILSON b. May 2, 1948, Newport, Vt. She marr. Danny Robert WALLACE (b. Oct. 13, 1949) on Feb. 14,,1970. They adopted 2 baby daughters: (twins) b. Aug. 12, 1976'

Jodi Alayne, (Jodi marr. July 10, 1999 to James Edward BRYDON (b. Feb. 6, 1977) Jodi had a boy, Ethan James, b. August 27, 2001 in Waterloo, Ont.

Jana Angele, (Jana marr. Sept. 13, 1997 to Pascal TALBOT (b. Oct. 20, 1975)

Jana & ChloeandPascal & Chloehad their fist child, Chloe Alexandra TALBOT, born December 4, 2002, at the Pierre Boucher Hospital, Longueil, Quebec.
(3) Janice Isobel WILSON b. July 15, 1949, Janice died on November 22, 2001 at the Royal University Hospital, Saskatoon, Saskachewan, Canada. Janice was married on Feb. 21, 1970 to Richard Alan KEET (b. Aug. 26, 1945). They had 3 children:
(a) Colleen Janice b. Nov. 26, 1970, Sherbrooke, Que. marr. Oct. 20, 1990 to Marc Clayton COTE. (b. Oct. 23, 1967) They have 2 daughters -
Morgan Elizabeth b.Nov. 26, 1004 and Chelsea Marie b. May 4, 1997 (both b. in Sherbrooke, Que.)
(b) Brett Richard b. Nov. 8, 1972, Sherbrooke, Que. - unmarried.
(c) Cynthia Lee b. Mar. 25, 1974, Sherbrooke, Que. Marr. July 11, 1998 to Paul Reuben JOHNSON (b. Jan. 26, and have a son, Griffin Drake, b. Oct. 24, 1999. A Daughter Phoebe Aurora was b. July 18, 2001 in Saskatoon, Sask.

A Daughter Marina Isabelle, born May 18th, 2003, Saskatoon Hospitasl, Sask. She weighted 6 lbs., 4 1/2 Oz.


JAMES THOMSON



James Thomson, son of William Thomson and Jessie Daniel, born 1899, Scotland, died Nov 1921. James died in an accident, when he fell from the derrick of George Smith, in Beebe,Quebec, where he was employed. He is burried in the Woiodside Cemetery, Beebe, Quebec.



JOHN THOMSON



John Thomson, born Apr 8, 1894, The Son of William Thomson and Jessie Daniel, enlisted in the Canadian Armed Forces on February 2, 1916, departed for England, then France, he was Killed in action at the age of 22, the day after his birthday, on April 9, 1917. the below is dedicated to John.



BEEBE MEMORIAL PARK





Designation of memorial site of Beebe Soldiers Killed in France during WW I, Uncle John Thomson, born Apr 8, 1894 (single), is included. John was killed in action on Apr 9, 1917, while srving with the 24th Battalion at the battle of Vemi Ridge France. There is a large battle area and monument

in France, dedicated to all who fought and died at Vemi Ridge. Uncle John is buried at the Thelus Miliary Cemetery, France.

Bruce Wilson while stationed in Germany, in August 1994, went to the Thelus Military Cemetery & visited John Thomson's grave. His two sons put Canadian flags by the tombstone, while Bruce put flowers. The inscription on the stone (Grave 15, Plot 2, Row Ereads: "FATHER IN THY GRACIOUS KEEPING, LEAVE WE NOW OUR LADDIE SLEEPING"



BILL & JACK AT THE MEMORIAL




WOODSIDE CEMETARY BEEBE, QUEBEC
Dear Ancestor..Your tombstone stands among the rest
Neglected and alone
The name and date are chiselled out
On polished marble stone
It reaches out to all who care
It is too late to mourn

You did not know that I exist
You died and I was born
Yet each of us are cells of you
In flesh and blood and bone
Our blood contracts and beats a pulse
Entirely not our own

Dear Ancestor..the place you filled
So many years ago
Spreads out among the ones you left
Who would have loved you so
I wonder how you lived and loved
I wonder if you knew
That someday I would find this spot
And come to visit you.


Grandfather William Thomson's Family grave site, Woodside Cemetary, BeeBe, Quebec, Canada. The Markers are Memorials to others in Grandfathers Family.

The left marker reads in part: G.(George) THOMSON, Dec. 1886 - Jan. 1887. W. (William) THOMSON, Oct. 1884 - Mar. 1907. A. (Andrew)THOMSON, Jun. 1899 - Dec. 1910.

The right marker lists John THOMSON died Apr 9, 1917, James THOMSON died Nov 1921 and a Baby (Twin to James) Died at Birth, Jan 1897.

Grandfather William Thomson Died on 28 August 1927 at Newport Vermont Hospital. and was buried here Sept 1927. Grandmother Jessie (Daniel) Thomson, Died 28 May 1937, buried here 29 May 1937.

Isabella "Bella" (Thomson) Youngson, died Jan 9, 1962. Mary Ellen (Thomson) Adams Died (unknown). George Thomson died as infant. Alexander Thomson died Nov 28, 1949. Son William "Willy" Thomson, died March 3,1907, drowned in accident, as a Stoker on the Fishing Vessel Daisy, 6 miles east of Cellar Head, Lewis. Harriet Elizabeth (Thomson) Kennet died oct 21, 1938. Georgina "Ina" (Thomson) Wilson died oct 11, 1980. Andrew Thomson, died at Age 8.Margaret Jessie "Daisy" (Thomson) Schulte died jan 26, 1987. "little Alex" (died Unkown).



STANSTEAD GRANITE QUARRIES






The Stanstead Granite Quarries. Grandfather William Thomson was a Quarry Man and Alexander (Pop) Thomson worked here, before going to Vermont, USA. His Brother James Thomson died in Nov 1921, due to fall from the derrick of George Smith, granite cutter of BeeBe, where he was employed. John Thomson worked here at the time he enlisted in the Canadian Army.




THOMSON FAMILY TREE



Each family has their own LIMB(page). You can jump direct to any tree limb(page),by clicking BELOW:

..Page 2.. DIRECT DECENDANTS Grandfather thru GGG Grandfater Thomson'sJump HERE
..Limb 3 ISABEL SLOANJump HERE
..Limb 4 JESSIE RAEJump HERE
..Limb 5 SANDY THOMSONJump HERE
..Limb 6 BILL THOMSONJump HERE
..Limb 7 ARTHUR THOMSONJump HERE
..Limb 8 BOB THOMSONJump HERE
..Limb 9 JACK THOMSONJump HERE
..Limb 10 WALTER THOMSONJump HERE
..Limb 11 LORRAINE DUNDASJump HERE
..Page 12 WELCOME TO CANADAClick HERE



list of MY SCOTTISH ANCESTORS links




THE THOMSON/WICHTERMAN FAMILY

SCOTTISH HISTORY

VIMY RIDGE MEMORIAL



JACKS PLACE

LATINA

MY SCOTTISH ANCESTORS- Thomson Family Tree

WEDDINGS

BABY



BACK TO TOP





Haste Ye Back!


br> Music: The Maple Leaf Forever