MARCH 27, 2012



MY SCOTTISH ANCESTORS, The Thomson Family Tree. Direct Ancestors. Be proud of our Family Heritage. From Father to Great Great Great Grandfather.



DIRECT ANCESTORS



The following information was recently received and contributed by Canadian Cousin Elane Wilson, Robert Thomson, James E. Thomson, Arthur Thomson Jr. and Lorraine (Thomson) (Elwell) Dundas. Their hard work and dedication in reseaching since the early 1980's and expediture of their own monies in paying for the research of Military records, Churches,Births contacting relatives, Etc Etc, both in Canada  Scotland and USA,is greatly appreciated. All Faimilies owe them our gradtitude.



WILLIAM THOMSON FAMILY MIGRATION

The William Thomson Family came to Canada on the ship "Pomeranian" (Allan Line) - departed Glasgow Nov. 21, 1914 and arrived at Halifax, N.S. Dec. 5, 1914 at 2:30p.m. They landed at 3:00 p.m. & left by train at 8 p.m., Dec. 6. They were met by Grandfather William Thomson (he was already in Canada about 1913, possibly with Son John Thomson?).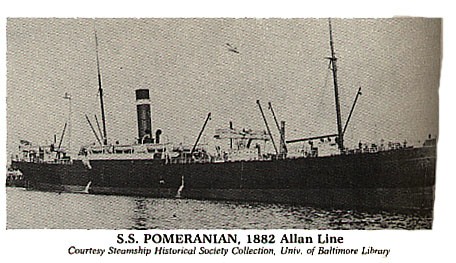 The list was as follows: Jane (?)(Jessie Daniel) Thomson age 50, married b. Scotland - housewife Harriet Thomson age 23, single b. Scotland - domestic Georgina Thomson age 19, single b. Scotland - domestic James Thomson age 17, single b. Scotland - undecided Daisy Thomson age 11, single b. Ireland Alexander Thomson age 5, born Ireland-----that would be little Alex It also said that Jane(?)Jessie) was met by her husband, a quarryman and that their destination was Graniteville, Que.


***Our direct ancestors




FATHER





***ALEXANDER THOMSON
born 1/4/1888. Andlaw Mains,Pitsligo, Aberdeenshire, Scotland, died 28/11/1949, Married Lillie Ann Stuart, born 2/5/1895, King Edward,Aberdeen, died 26/8/1969. They married on 4/6/1915, at Aberdeen. Scotland. (see Things Scottish page)





GRANDFATHER AND FAMILY




PHOTO PROBABLY SENT TO ALEXANDER (POP). DURING WORLD WAR ONE. Back of photo reads "Your loving mother (Jessie Daniel Thomson?)and brothers (James? & John?)with Grandma (Isobel (Jamieson) Thomson?) and Uncle Jim (?), the dog is T Eitchener"
***WILLIAM JAMES THOMSON
born 10/25/1862, Longside Parish, Aberdeenshire, Scotland, died 8/28/1927, Orleans County Memorial Hospital Newport, Vermont, burial Woodside cemetary., BeeBe Quebec Canada. His Father: George Thomson, Mother: Isabella Jamieson. William Married: Jessie Daniel (Janet Addison? Jane?), born January 29,1864, They married on May 31, 1884, Church of Scotland, Parish of Strichen. She died 28/5/1937, Sherbrooke Hospital, Quebec. Burial Woodisde Cemetary.

        Children:
1. Isabella Jane "Bella", born 3/12/1880? (1882?), Aberdeen, death 1/7/1962  Saskatchewan,Canada. She Married William Youngson (see CANADA page)
2. 

Mary (Ellen) Helen born about 1883, Aberdeen, died about 1961, Aberdeen. At age 27, she married William Fowlie Adams in 1910 in Aberdeen. Mary had a child Jessie Ann Shand THOMSON born 5 July 1902, (Jessie died 22 Jan 1971. Jessie Married Charles COULL on 17 Jan 1921. Charles Coull, pictured with his mother. Jessie also had a son John Thomson COULL and a daughter Edith COULL
3. George, born Dec 1886, Died Jan 1887 in infancy
4. ***ALEXANDER "Alex",born 1/4/1888, Pitsligo, Aberdeenshire, died 28/11/1949. Married Lilie Ann Stuart 4/6/1915.
5. Hariet Elizabeth, born 1891, Died 21 oct 1938, Sherbrooke, Que. Burried Woodside Cemetary BeeBe, Quebec. Married George Alexander Kenett (see CANADA page).
6. William (Willy), born 1884,

Died March 3, 1907 in a drowning accident, 4 miles East of Cellar Head, Lewis, he was a crew member (Stoker) on the Fishing Vessel DAISY.
7. John, born 4/8/1894, Stirling Hill, Scotland. He was killed in action, Vemi Ridge, France, WWI, 9 April 1917, Buried in France (see CANADA page).
8. Georgina "Ina", born 10/12/1895, Aberdeen, death 10/12/1980. at Sherbrooke, Que. She married James Smith Wilson (see CANADA page)
9. James Robert, born 1899 (1897?), Scotland, Died Nov 25, 1921, Beebe, Quebec (see CANADA page).
10. Baby 1899 (1897?) 'Twin' of James, was born dead
11. Andrew died at age 8.
12. (Margaret?) Jessie "Daisy", born 3/18/1902 In Newry Ireland, death 1/26/1987, Married 7/18/1925 to Walter Francis Theodore Schulze, who was born 9/7/1896 at Goellingen Germany.
13. Little Alex, Born 1909 in Ireland (Child of Jessie's brother Alex Daniel, Raised as their own.)(Another family mystery?)



GREAT GRANDFATHER


***GEORGE THOMSONGeneral Labourer, christened 9/24/1830 at Longside, Aberdeenshire, Scotland, married 5/9/1858 at Lonmay Scotland to (Isobel?); Isabella Jamieson who was born 3/11/1837at New Hills, Aberdeen, Scotland
Children:
1. Sarah, born 6/20/1858, Lonmay Scotland
2. George, born 3/20/1860, Longside Scotland
3. *** WILLIAM, born 10/25/1862, Longside Scotland, died 28/8/1927. Married Jessie Daniel on 31/5/1884, The Manse, Strichen, Scotland.
4. Janet, born 1/24/1865, Rathen Scotland
5. Mary Anne, born 8/18/1867, Rathen Scotland
6. Isabella, born 5/5/1870, Rathen, Scotland
7. Christina "Teenie" born Strichen Scotland "died in infancy"
8. John (?)
9. Elizabeth, born (1876?)
10. Andrew, born 1873, Tynie, Aberdeen
11. James (Jimmy) (?)
12. Robert Born (1880-1881?)

The 1881 Census for George Thomson Family is as follows below:

Dwelling Weighton
Census Rathen Aberdeen


George Thomson age 50 Born Longside Aberdeen, General Labourer
Isabella wife age 43 Born Newhills Aberdeen
William son age 18 Born Longside, General Labourer
Mary Ann daughter age 13 born Rathen Aberdeen
Isabella daughter age 10
Andrew son age 5 Born Rathen Aberdeen
Elizabeth daughter age 5 Born Rathen Aberdeen
Robert son age 11 months
George J Thomson grandson age 1


Note: William was only 18, listed as not married (date of his marriage to Jessis Daniel in 1884 and their daughter Isabella Jane's birth in 1880(82?)is in question?) (there was no Isabella born 1880 in Aberdeen?) further note: George Thomson's daughter Sarah and Janet and brothers George, John and James not listed as living at home at time of 1881 Census), also note, George J Thomson grandson age 1 was living with his Granpa & Granma at time of census 1881.



GREAT GREAT GRANDFATHER


***JOHN THOMSON, Christened 12/1/1785, Lonmay Scotland. Married 9/22/1821 at New Deer Scotland to Janet (Jane) Cassie who was born 10/10/1806, at King Edward,Aberdeen.
        Children:
1. Isobel, christened 1/4/1823, Longside Scotland
2. Margaret, christened 9/13/1824, Longside Scotland
3. Barbara, christened 11/28/1826, Longside Scotland
4. John, christened 10/20/1828, Longside Scotland
      5. ***GEORGE, christened 6/27/1830, Longside Scotland, Mar ried Isabella Jamieson on 9/5/1858, at Lonmay.  he was working as a farm laborer for William and Margaret Reid when he was 10 years old.
6. James, christened 11/9/1832, Longside Scotland
7. William, christened 6/26/1835, Longside Scotland
8. Robert, christened 3/11/1837, Longside Scotland
9. Alexander, christened 5/8/1839, Longside Scotland
10. Janet, christened 11/18/1841, Longside Scotland



GREAT GREAT GREAT GRANDFATHER


***ANDREW THOMSON,His Father William. christened 2/7/1764, Lonmay Scotland, Married 12/12/1784, Lonmay Scotland to Anne Park who was christened 12/22/1759, Strichen Scotland
        Children:
1. ***JOHN christened 12/1/1785, Lonmay Scotland. Married Janet Cassie on 22/9/1821, at New Deer, Scotland.
2. Mary, christened 2/22/1788, Lonmay, Scotland
3. Robert, christened 4/13/1790 Lonmay, Scotland
4. Anne, christened 2/6/1792 Lonmay Scotland
5. James, christened 6/26/1795 'twins', Lonmay Scotland
6. Andrew, christened 6/26/1795 'twins', Lonmay Scotland
7.Christian, christened 2/28/1799, Lonmay Scotland




UNCLE WALTER & AUNT DAISY (THOMSON) SCHULZE






Younger Aunt Daisy & Uncle Walter during his service with the American Red Cross, during  World War II (Early 1940's)

Jessie "Daisy" (Thomson) Schulze, born 18 Mar 1902 in Newry, Ireland, deceased 26 Jan 1987, in NY. Aunt Daisy was named after her mother (Jessie Daniel). She was baptised at St. Patrick's, Newry, Ireland. Grandpa William was a fireman in a quarry at the time of Daisy's birth and they lived at 29 Rooney Terrace, Newry, county Down, Ireland. Daisy was confirmed in All Saints Church, Beebee, Que in July 1917. Aunt Daisy was the Sister of Alexander Thomson. She married Walter Francis Theadore Schulze, born Sep 7 1897 at Goettingen, Germany, His Father was Otto Schulze. Mother Anna (Lichtenfeld)Schulze.Walter and Daisy Married in Newark, NJ, on 18 JUL 1925,  Walter deceased May 20, 1967, NY. Aunt Daisy was a beautician, having her own shop in Staten Island, NY. Her later years were as a Traveling Companion , Uncle Walter was a Caterer. They lived in Manhattan, N.Y. most of their marriage, when not traveling to Europe etc. Walter arrived in the USA in 1911, and stayed with his uncle William in Chicago.




THOMSON FAMILY TREE



Each family has their own LIMB(page). You can jump direct to any tree limb(page),by clicking BELOW:

..Page 2.. DIRECT DECENDANTS Grandfather thru GGG Grandfater Thomson'sJump HERE
..Limb 3 ISABEL SLOANJump HERE
..Limb 4 JESSIE RAEJump HERE
..Limb 5 SANDY THOMSONJump HERE
..Limb 6 BILL THOMSONJump HERE
..Limb 7 ARTHUR THOMSONJump HERE
..Limb 8 BOB THOMSONJump HERE
..Limb 9 JACK THOMSONJump HERE
..Limb 10 WALTER THOMSONJump HERE
..Limb 11 LORRAINE DUNDASJump HERE
..Page 12 WELCOME TO CANADAClick HERE



list of MY SCOTTISH ANCESTORS links




THE THOMSON/WICHTERMAN FAMILY

SCOTTISH HISTORY

VIMY RIDGE MEMORIAL

JACKS PLACE
LATINA
MY SCOTTISH ANCESTORS- Thomson Family Tree
WEDDINGS
BABY
BACK TO TOP
Haste Ye Back!